Hello, and welcome!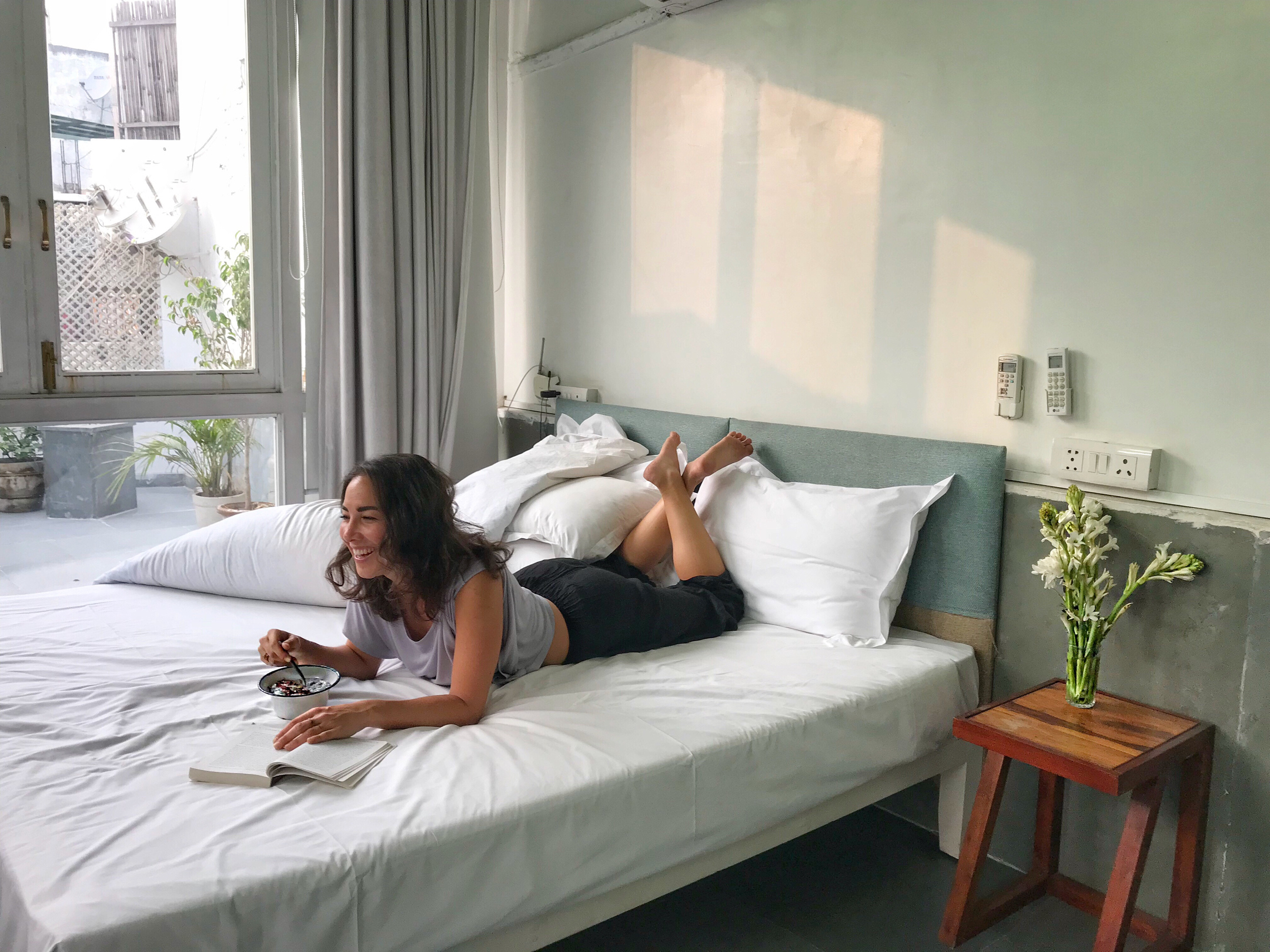 I'M NELLIE, CREATOR OF HAUS OF OJAS AND HOLISTIC LIVING COACH. IN THE HAUS OF OJAS BLOG AND ON INSTA @HAUSOFOJAS, YOU'LL FIND INSPIRATION AND TIPS FOR LIVING A MORE HOLISTIC (AND SLOWER) LIFE. MY MAIN MANTRA IS TO 'FEEL GOOD AND KEEP IT REAL.' I PROMOTE REALISTIC WAYS OF CONNECTING WITH YOUR MOST VIBRANT SELF BY DOING WHAT'S BEST FOR YOU, PERSONALLY.
First, let's chat food. For me, cooking and eating are at the center of living well. While you're here, you'll come across lots of beautiful, delicious, and healthy eats. Beyond great foodie pics, however, I believe food is a personal experience. We all have different pleasures and hang ups when it comes to eating. Our culture(s) also influence how we view food (including the creation of acceptable terms for what, where, when, and why we eat). And, while food and eating are often sources of joy, in my personal experience and in coaching individuals, food is also the root of discontentment. For many, relationship with food brings up stress and shame. Food relationship is too frequently an experience of mental analysis and an emotional dichotomy of guilt versus reward. Consider a common experience I hear within my coaching practice:
A client is engaged in some iteration of "I'm on track for a while, but then I get off track." The "track," or cycle, usually refers to some sort of prescriptive way of eating. Perhaps it's the latest diet trend, like Keto or the Whole30, or it's a counting approach, like 'calories in/calories out,' or hitting 'target marcros,' or yet another variation in-between. The client will experience brief success and excitement while on their eating "plan" and disappointment, stagnation, or shame while off plan. How long a person stays on, or off track is different for everyone, and some will even make a lifestyle out of the on/off pattern by establishing designated "cheat days" (days that are 'off' plan to make the rigidity of their eating regimen more manageable).
Diet Culture
The commonality across all of these food/diet plans is: rules. "You must follow these rules as part of this diet..." And, don't be fooled by the plans that use labels other than 'diet' to categorize how you'll eat. I've heard "plan, program, system, challenge, and even 'lifestyle'(!)" to describe prescribed methods of eating. These labels simply masquerade the actuality: it's a diet.
It's simple. You'll know you're on a diet when there are rules. The rules often provide a 'yes/no' list for foods, points system, or other quantifiable measure to help participants analyze their eating choices. If you follow the specific rules of your prescribed diet, you will be rewarded with the body you've always desired, glowy skin, boundless energy, etc. So, what's the problem with prescribed eating (diets) anyway?
Dieting culture does not work. Humans have a deep, adverse response to being told what to do. While we can tell ourselves that a diet plan provides needed structure, or guidance around food, we're actually kidding ourselves. What's worse, individuals who invest in the failed paradigm of prescribed eating will likely blame themselves after they've been unsuccessful in their efforts. We rarely blame a diet plan for shortcomings. Instead, we tell ourselves we 'lack willpower,' that we're 'just not organized enough,' or that we don't truly deserve to feel good in our own skin.
Intuitive Eating
The antidote to rule-heavy approaches to food and eating, in my proposal, is intuition. It's not looking to external sources to determine what you'll eat. You turn directly toward yourself, your body. Your body is the entity with the innate wisdom that can tell you exactly what you need to feel nourished and joyful. Holding your body as the authority is not just about tuning into hunger cues - which is mildly discussed in dieting culture - but rather, listening deeply to what it is that satisfies you.
The process of eating intuitively requires trust. And time. Both of which bring up hesitation in many of my clients. This is OK. When you've been exposed to dieting culture, air-brushing, and body stigmas your whole life, shame arrives to inform you that you're not good enough to make your own decisions (and you're certainly not good enough just the way you are). You must trust the multi-billion dollar diet and supposed "health" industries to make choices for you, because you can't be trusted and you do not possess any inherent resources to support yourself.
Nothing could be more wrong. To trust your body to guide you in arriving at the best, most vibrant version of yourself is to say, all at once, "I am whole exactly the way I am, and, as I grow and evolve, I can trust myself to make the choices that will inspire me to live my best life." This is not woo-woo, another fad, or a free-for-all eating approach. Trusting your body actually works. It's about healing and growing, not rules, restrictions, and numbers. If you're saying, "but, my body literally only craves loaded, deep-fried nachos!" Then eat the nachos. The true need your body has is likely beyond the nachos. When you open yourself to eating what you like, what you crave, you provide for your needs. You open a space to heal. Once you've given yourself what you need (whether it's emotional, physical, spiritual, mental, etc.), you'll likely stop craving nachos all the time. Conversely, if you rid yourself with guilt after eating said nachos, you disarm the process.
US culture is rife with contradictions surrounding consumption and restriction. Dieting culture promotes restriction, while our materialistic culture says: consume, consume, consume. Neither of these paradigms provide supportive messages around our bodies, or true nourishment and health. When your culture/society cannot offer a supportive path to living well, trusting yourself becomes an incredibly powerful act. You were born with all the instincts, information, and systems you need to create a vibrant, meaningful life (not to mention, a joyful relationship with food). Honoring cravings (instead of suppressing them) taps into an ancient, inherent system that is designed to keep you well. We crave what we need. Trust yourself.
I know that it feels radical to trust yourself to guide all of your eating choices and at the same time feel great in your body and be in good health. My clients often believe that they must choose one or the other. I'm here to let you know you get to have both. My work supporting clients often focuses on spending time expanding their level of trust and developing a strong sense of intuition within their own body. It's the meaningful, worthwhile work that lives beyond dieting culture and leverages all of the resources you already possess.
If the style of my work resonates with you, follow along on my blog and insta, or contact me for more information on working together to develop a holistic lifestyle, trust in your body, and a reunion with eating intuitively.
Be well,
Nellie